L-Code: L0457
Provides support, helps manage trunk stabilization, and improves posture and torso alignment.
Buckle clips allow for easy donning after initial fitting.
Padded rigid panels on both sides are comfortable and allow adjustable fit.
Cinch straps allow the patient to readjust tension on the torso.
Rigid panel slides inside the soft front apron.
The TLSO's 16" padded plastic back supports the middle and lower spine.
Wide side straps are adjustable to allow custom fitting.
Cinch straps work with the side panels to help trunk stabilization and improve posture and torso alignment.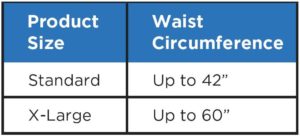 See product selection or size below.
Product Instructions
Decision Chart
Videos
Videos available upon request.