L-Code: L0456 / L0457
Provides support, helps manage trunk stabilization, and improves posture and torso alignment.
Padded shoulder straps comfortably enhance posture, including that of kyphotic patients, thereby helping lung expansion.
Apron front with sewn-in plastic creates comfortable torso compression.
Elastic belts comfortably support the spine.
Breathable, comfortable padding allows prolonged use.
High-temperature plastic inside the back panel, removable plastic front and side panels.
Optional attachments for head/neck posture correction are available.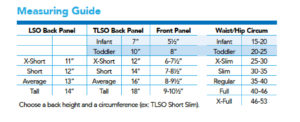 See product selection or size below.
Product Instructions
Size Chart
Decision Chart
Videos
Videos available upon request.