L-Code: L0637/L0650
Provides support, helps manage trunk stabilization, and improves posture and torso alignment. Helps to limit side to side movement.
Unique string weave back adjustment works similar to tightening shoe laces.
Easily reposition the rigid panels on both sides to the best therapeutic position with hook and loop closures.
Front plastic panel slides inside the soft front apron.
14" tall padded plastic back supports the lower spine.
Wide side straps are adjustable to allow custom fitting.
Breathable fabric allows air flow to the skin to help keep the body cool and dry during exertion and physical activities.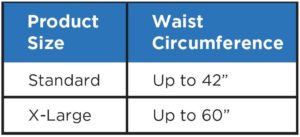 See product selection or size below.
Product Instructions
Decision Chart
Videos
Videos available upon request.